The GeoTalent Product Line
Flexible Learning, Performance
and Talent Management
Flexible enough to match your workflows
Trusted since 1992, GeoMetrix Data Systems offers you the most flexible LMS in the marketplace. Sophisticated and modern, GeoTalent Flex helps you create an engaging experience for your users, whether they are employees, customers or partners. Only GeoTalent offers enterprise features plus the freedom to customize without compromising the ability to upgrade. We provide a cost-effective solution with multiple licensing and payment options including subscription and perpetual. An ideal balance of out-of-the-box functionality with a customizable interface equals an LMS tailored to your needs — without the cost of developing a custom system. For more information visit our library to download documents.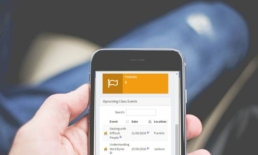 Innovative Software Design
A revolutionary new data access layer offers outstanding performance and scalability. GeoTalent Flex is designed to scale from hundreds to thousands of simultaneous users without performance degradation. Comprehensive features include a sophisticated development plan, informative dashboards, and streamlined workflows. The system includes development plans, Section 508/WCAG compliance, social learning, document uploads, internal messaging, improved usability and so much more.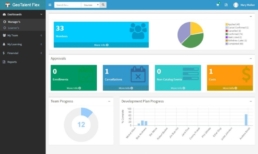 User-friendly Dashboards
Dashboards provide a central location for users to view, access, and interact with learning and development information. Organizing and presenting information intuitively for quick and easy responses, dashboards save time and energy. The Supervisor dashboards provide a preview of student activities and course statistics, while the learner dashboard gives the student relevant performance metrics including training progress. Throughout Flex, details are available in pop-ups to access information without having to leave the screen your working in.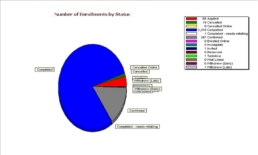 Reporting & Data Management
We've designed our reporting system to help you gain insight into learning & development. Utilize timely information for accounting, HR or other business processes or use it to improve training methods or materials. GeoTalent comes with hundreds of standard reports to give you the data you need immediately. Our advanced reporting tools are fully integrated into the LMS. The Flex Reports dashboard lets you track and analyze the performance of each and every learning activity. And all reports can be downloaded or exported in multiple formats.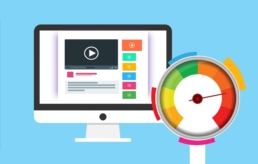 System Performance & Architecture
System Performance & Architecture
GeoTalent Flex is designed to meet the needs of organizations of all sizes. For large organizations, system performance is critical to the success of the implementation. GeoTalent Flex employs a sophisticated new data access layer to ensure optimal performance for all customers. GeoTalent Flex is designed to utilize a COM library that encapsulates the GeoTalent API. This design allows incoming page requests to operate concurrently in a single-thread multi-instance environment and significantly increases the performance on the server.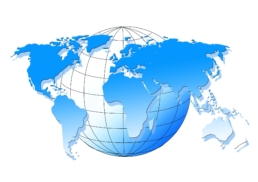 Global Accessibility & Scalability
Our enterprise software is a global application with unlimited scalability. Using our portals functionality organizations can operate globally and deal with multi-national issues while controlling information using a single database. Flex supports users from around the world with access in English, Spanish, French, German, Italian, Portuguese, Chinese plus additional languages can be added anytime. The Flex interface is responsive and supports mobile learning securely with full compliance to industry regulatory standards. Pages dynamically adapt for all devices.